Verve is a creative studio located in Cedar Rapids, Iowa. We collaborate with business owners and creatives to help businesses define and transform their brand by providing branding and social media content services that produce digital and print marketing results. Whether it's logo or website design, video production or social media content creation, Verve has the tools to create and execute a sustainable online strategy. Our goal is to make marketing and branding a less scary monster for new businesses, while offering affordable and kick ass content creation services.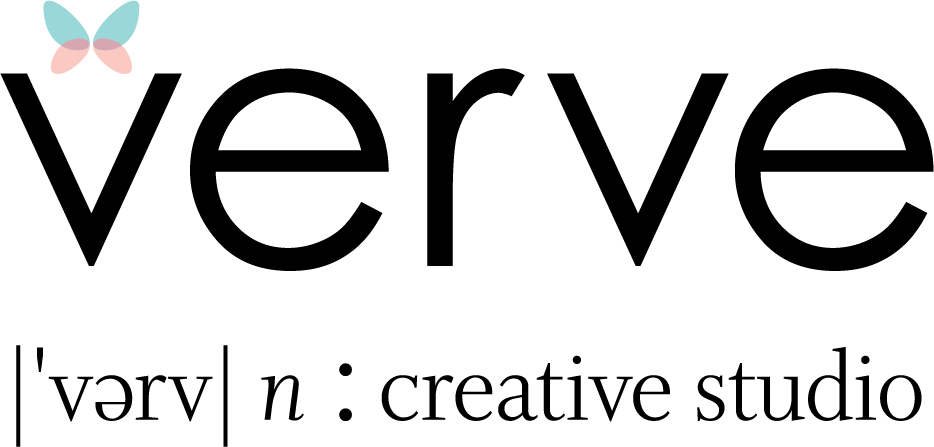 "
I have 16 years of experience working in collaborative, results-driven, creative environments. My expertise spans strategy to execution. I engage both sides of my brain to take on challenges from both strategic and creative perspectives. I've cultivated analytical, managerial, and technical skills on top of my solid foundations in visual art and design. To put it simply, I like to figure things out from start to finish and top to bottom, to end up with functional, creative and successful solutions.
Services
BRANDING | WEB DESIGN | CONTENT CREATION | SEO
A brand is the way customers perceives your business. Whether we're creating a brand identity or creating content for social media, it begins with understanding your business and its customers. Branding is about nurturing the relationship between customer and business which makes storytelling a key aspect of our process. Stories spark emotion, are used to learn and help make sense of the world which is why storytelling is at the heart of everything we create.
Branding and visual identity are among the most important aspects of a successful business. We will create and help define a brand for your business that is consistent, creative and differentiates from competitors.
We create websites with two important concepts in mind…simplicity and usability. Coded for fast loading, ease of use and simple upgrade in the future, website design is included in our brand identity service.
Content creation starts with understanding your audience. We have a passion for creative imagery, moving and still, print and digital. Verve has the tools and skill set ideal for creating beautiful content on-the-go.
Over the last decade we've acquired extensive knowledge of online marketing. We also offer SEO subscription services to improve website visibility and help your business connect with customers.
Blog

THE LATEST STUDIO NEWS

Collaborative – We value diversity of thought, style and background. When creatives come together working towards a common goal it allows for better problem-solving. Collaborative environments spark creativity and ensure successful solutions.

Juice – Creativity is a journey from which we return to communicate the extraordinariness of the simplest, most every day acts. We aim to inspire, motivate and captivate an audience. "Gotta blame it on my juice, baby!"

Simplicity – Why make things complicated when they can be so simple? This is our primary focus but, beware! Simple does not mean easy and that's why we love it. We welcome a challenge!

Human – It's easy to forget that we are humans. After all, we're those techy folks doing computery things on the internets to create awesome logos, websites and content for you.  We actually don't like to be perceived this that way. We want to get to know you and value lasting relationships.
In the Studio – Adobe Creative Cloud expert certifications is where it's at from Illustrator and Dreamweaver to Premiere Pro, After Effects and everything in between.
On the Go – Equipped with everything from drones, gimbals fitted with full frame cameras to pop-up studio equipment. Our tools and skillset are ideal for creating beautiful content on-the-go.
Let's Collaborate
TELL US ABOUT YOUR PROJECT
We love messages and meeting for coffee or tea at one of our favorite local spots. Drop us a note and we'll get back to you as soon as possible…